Dog Boarding
Overnight Dog Boarding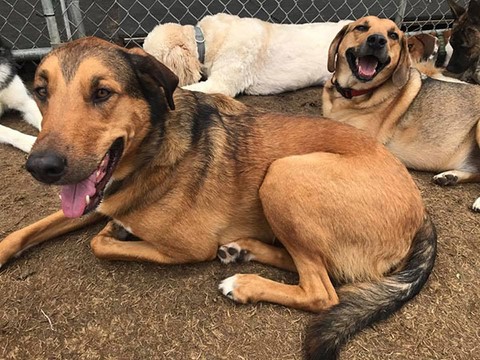 Included Amenities:
Fleece bedding- freshened daily
Up to 2 meals per day
Daily TLC and attention from our staff
Access to both indoor and outdoor play areas
Administer required medications
Daily chew toys
Daily treats
Go home bath (for overnight stays of 2 days or more.)

Room - 4x6
1 Dog - $30 Per Night
2 Dogs - $25 Per Night each
3 Dogs - $25 Per Night each

Note: Prices for 2 or 3 dogs refer to dogs of the same family from the same household.

Monday-Friday pick up is before noon.

If the dog stays after noon, a $17 charge will be added for a half day of day care

Saturday pick up and drop off is between 10am-4pm

Sunday pick up and drop off times are 10am or 4pm

Ace Boarding Policies

Due to the number of pets that stay at ACE, the following policies ensure that your pet receives the most personal and individual attention possible. Noncompliance creates additional workload for staff, which means less quality time spent with your pet.


ACE provides bedding and chew toys at no charge. You can bring bedding for your pet, but we cannot accept bedding that takes up more than half the room size.
Please bring only the amount of food your pet needs for their stay in a plastic container, original food bag, or Ziploc bag. Bowls, spoons, and measuring cups are not necessary and will not be accepted.
ACE feeds twice a day. A $4.00 daily surcharge will be added for additional feedings.
USDA regulations require that medications be brought in the original bottle or packaging and is clearly marked with the pets name, dosage, and instructions.
Injections of any type are subject to a $5.00 per day surcharge.
Please try to arrive for check in or check out a minimum of 15 minutes before closing time.
If your pet(s) is checking in for the first time, arrive one hour before closing time to ensure your pet(s) has time to acclimate.
Please do not bring items of value that could be destroyed, chewed, or otherwise not returned. If you will be upset if you don't get it back, please do not bring it.
If your pet is found to have fleas and/or ticks during their stay, the dog will be bathed at the owner's expense.
Thank you for your cooperation!