Doggie Day Care
ACE Day Care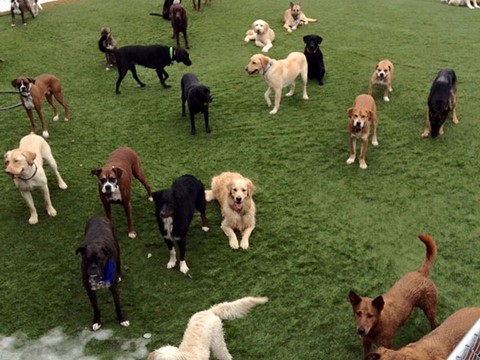 A full day of day care includes any period of more than four hours during regular M-F business hours. Pets must be dropped off before 12pm on day care days.
A half day of day care includes a period of four hours or less between 7am and 1pm M-F. Pets must be picked up by 1pm on half days regardless of drop off time.

Day Care Rates
(Prices not including tax)
Days Description 1 Dog Multiple Dogs
1 Day Care $25 $18.50 ea. dog
2 Day Care $20 $18.50 ea. dog
3 Day Care $19 $18.50 ea. dog
4 Day Care $18 $18.50 ea. dog
5 Day Care $17 $18.50 ea. dog

Half Day Prices
1/2 Day Care - 1 dog rate $17.00,
Multiple dog rate $15.00


Saturday Day Care 10-4 $5/hr. Not to exceed $20
ACE Day Care Overview
ACE offers day care Monday through Friday 7am to 6pm and Saturday 10am to 4pm.If you need us sooner in the morning due to your work, scheduled reservations are required for proper staffing.

ACE accepts any dog that is social and can be managed within a group without provoking aggression. When dogs have issues in a group, ACE staff will notify their owners and offer possible solutions in an effort to keep the dog in day care.


We do not encourage "lunches" for dogs over 6 months of age. It has been our experience that most dogs do not eat because they are either not hungry or are too excited and anxious to return to the group.

Fresh water is available at all times. Randomly during the day we offer doggie treats to the group.

As a pet owner please be informed of the possible risks that are inherent at doggie day care.
Remember that in placing your dog in any situation where dogs commingle, there is a risk of injury, illness, or parasites.


Dogs in groups play hard. No matter how closely supervised, dogs are dogs and the activity can result in soreness, scrapes, and bites.


Dog play is primarily for healthy dogs that can engage in active play. If your dog has any health concerns please inform the front desk staff. We will do our best to accommodate, but are not responsible if conditions are aggravated during group play or pool time.


Like any crowded interaction, your dog can be exposed to bacteria and viruses that are airborne which may result in cold or flu symptoms. Dogs with lowered immune systems or that have not had regular contact with other dogs are at higher risk. Even fully vaccinated dogs can experience breakthroughs and develop symptoms that are not prevented by vaccines. Dogs cannot tell us the day before they were feeling bad. Often it is during this time period that they are contagious. Despite every effort to prevent illness, it can still occur occasionally. In order to help us reduce the risk of spreading any bacteria or viruses we require all updated vaccination records prior to coming to day care or boarding. Along with this, we suggest your dog has proper flea protection in order to keep your dog away from being at risk of catching fleas. If a pet in daycare or boarding is found to have fleas and/or ticks the dog will be bathed at the owner's expense.

Day Care Benefits
Day care can aid in the relief of separation anxiety symptoms. The physical and mental stimulation helps them overcome their anxiousness about being away from you. It gives them an outlet for their energy and most dogs enjoy having somewhere to go to occupy their time until they see you again. We have seen many dogs improve behavior this way.


Day care is great for socialization and burning off energy, but it is not a replacement for training or one-on-one time with your dog.
Mellow and shy dogs can enjoy watching other dogs play, lying in the sun, and smelling new smells each day they attend. We have seen many dogs come out of their shells each day they attend.